HIGHLIGHTED Coral gables TRANSACTIONS
Completely unique boutique office building – tons of natural light, great on-site covered parking and a location that commands attention. Worked with Sellers to find the right buyer – a financial institution that values all attributes of the property and will make it their Coral Gables flagship location.
2420-2428 Ponce de Leon Blvd. Worked with Owners for years filling various vacancies with tenants including Sunrise Senior Living, Sunset Rugs and in 2010 then pop-up tenant No Boundaries. When the entire 10,000sf site became available worked with the brokerage community to lease property to Bricktops.
320 & 321 Miracle Mile. Worked with my client to purchase two classic Miracle Mile buildings – one with significant deferred maintenance. Prior to closing, identified Darden Restaurant Group's Season's 52 concept as a potential tenant – the rest is history. (Image from Season's 52 website)
After a long search of on-market property to identify a build-to suit site for a family office, the search turned to off-market properties. An existing site was purchased; the family chose to operate the property as it was delivered at closing. In 2016, construction of the new office building commenced.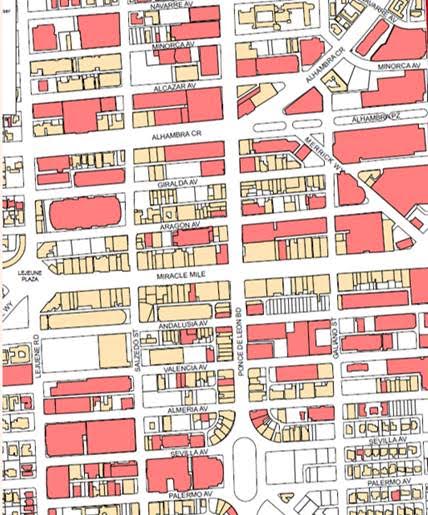 STARwOOD URBAN X, LLC: VARIOus Miracle Mile properties
Teaming with broker Charles Triester, we identified core assets for Starwood Urban X, a retail REIT, to acquire a critical mass of retail assets on Miracle Mile. After acquiring the assets amounting to approximately 10% of the retail on the street and successfully re-tenanting the properties, Terranova Corporation purchased the retail portfolio and continues to own and operate those properties today.